A photographic trip to discover the jungle of Central America. From the Harpy Eagle to the tiny frogs in incredible colors.
This is a proposal for those people who enjoy all kinds of wildlife photography, from the macro detail of frogs in all colors to the majesty of the Harpy Eagle (one of the two largest eagle species in the world), passing through the gestures of different species of monkeys or the iridescence of hummingbirds. Making a list of all the species that you will be able to photograph on this trip is practically impossible.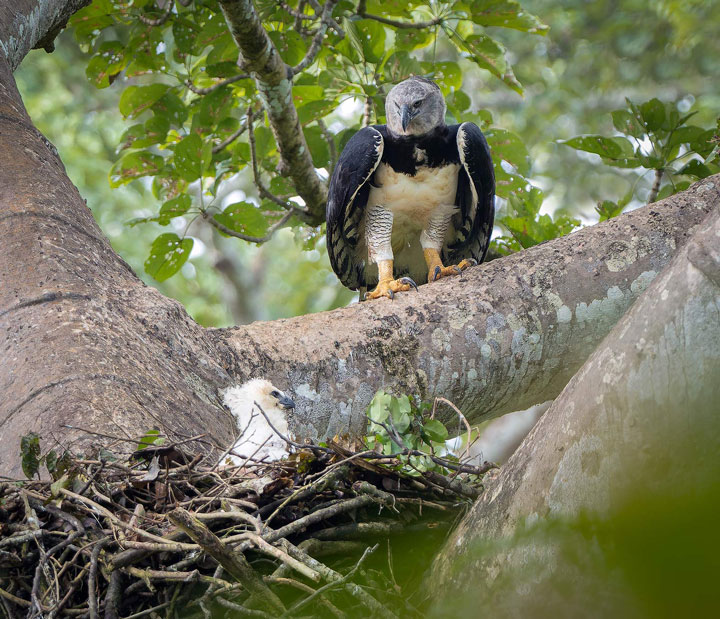 Our itinerary.
Departure day. We left on February 8th from the airports of origin of each participant. Flights will be coordinated to ensure a similar arrival of all participants. The tour leader will leave with the participants who wish so from the Barcelona airport.
Day 1: ARRIVAL IN PANAMA CITY
Arrival at Tocumen international airport, there we will meet a local guide and they will take us to the Summit Rainforest resort hotel. Dinner and overnight.
Day 2: GATUN LAKE AND RAINFOREST DISCOVERY CENTER
The adventure begins. Early morning departure and private boat ride through the Panama Canal to Gatun Lake, in search of primates such as White-faced Capuchin, Central American Howler and Geoffroy's Tamarin. We will also be able to photograph several waterfowl species. Especially Capuchins and Tamarins are very used to people and they even get on the boat.
We will then visit the Rainforest Discovery Center, a lowland rainforest reserve off Pipeline Road, one of the best-known birding destinations in the Neotropics. Species of diurnal mammals that we will be able to see include the Three-toed Sloth, White-nosed Coati, Central American Agouti and Geoffroy's Tamarin.
Day 3: PIPELINE ROAD & DISCOVERY CENTER
During the morning we will explore the lowland forests around Gamboa, in search of a great variety of birds and we will have more opportunities to photograph mammals like those of the day before. The Rainforest Discovery Center is an excellent private reserve for birds such as the Black-throated Trogon and the Golden-collared Manakin, among many others.
Lunch at a nearby restaurant, in the Gamboa area.
Day 4: FLIGHT TO CHIRIQUÍ, CERRO PUNTA AND JARDÍN DE LIBRIS
We will take the flight that leaves early in the morning to the city of David, capital of the western region of Chiriquí, where our local guide will receive us to take us to the town of Cerro Punta, in Tierras Altas. Two hummingbird gardens are maintained here where we will spend the rest of the day photographing various species of these small birds and other mountain birds.
The gardens are for exclusive use and the birds are very used to human presence. We will can
photograph them both, perched and in flight. If you like high speed photography lit by flashes, this is the right time to do it. However, the use of flash is not mandatory, you can take many photos of hummingbirds and other birds without using it.
DAY 5: TAMANDÚA RESERVE
The company Tamandúa maintains and manages a private reserve of 103 hectares of cloud forest, next to the Parque Nacional de la Amistad. Here we are regularly visited by other hummingbird species, including the Fire Throat Hummingbird, as well as many other species. At night they feed mammals such as nocturnal mammals such as the Cacomistle and the Tayra.
We will spend the day in the Reserve, where we will have lunch.
Day 6, 7: CLOSING PUNTA, HIGH SOILS
Depending on the weather and the results of the previous days, we will dedicate the two days
following to photograph the Quetzal, which is in its breeding season, and many other species of mountain birds, or to spend more time at the reserve's feeders and hummingbird gardens.
DAY 8: PARADISE, LOW SOILS OF CHIRIQUÍ
We will drive to Paraiso, an area in the Chiriquí Lowlands where pastures and cattle ranches are interspersed with forest. We will visit a small family farm that maintains feeders with a wide variety of lowland hummingbirds, as well as Red-billed Toucanet (a spectacularly colored toucan), Lesson's Motmot and many other birds. We will spend the morning at the feeders and, depending on the results, we can return to eat at Cerro Punta or stay until the afternoon.
DAY 9: FLIGHT BACK TO PANAMA CITY
We will take the afternoon flight from David to Panama City, in order to spend one last morning photographing in the garden, don't be fooled by the name, the garden has many opportunities. Accommodation at the Summit Rainforest Resort hotel.
DAY 10: FLIGHT BACK HOME
Pick up and transfer to the airport to take the return flight.
---
In case there is a Harpy Eagle active nest and it shows good conditions for photography, as has happened in the last years, we will take two days of this program to access the Darien area instead of any other activity. We will sleep there and take photos of one of the largest raptors in the world in the next morning. In the afternoon we would return to Panama City and take the flight to Chiriquí. We will not miss out on monkey photography. We will find the moment to photograph them.
---
Next departure february 8th, 2024. (9 to 17 february 2024) Arrival in Barcelona on 17th, 2024.
Price per person: (subject to USD – EUR exchange rate fluctuations). 2 photographers: 5.975 €. 3 photographers: 5.093 €. 4 photographers: 4.510€. 5 photographers: 4.153€. 6 photographers: 3970 €. 7 photographers: 3.770€. 8 photographers: 3.623€.
5% discount if booked before 15 November 2023: 2 photographers: €5,690. 3 photographers: €4,850. 4 photographers: 4.295€. 5 photographers: €3,955. 6 photographers: 3.750€. 7 photographers: 3.590€. 8 photographers: 3.450€.
Prices with double rooms, supplement for single room: 365€.
The price includes:
-All meals + daily availability of snacks, juices, water and soft drinks.
-Private transportation to and from airports, private transportation by road with minibus and 4×4 with guides/drivers.
-Entrance to private farms, local guides.
-Boats in indigenous communities.
Does not include:
alcoholic beverages, laundry, international flights, tips.
Trip for a group from 2 to 8 people.