A link between photography and conservation.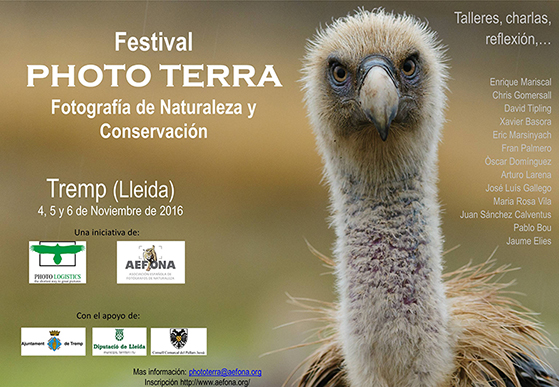 The City Council of Tremp (Catalonia), the Spanish Wildlife Photographers Association (AEFONA) and Photo Logistics joined forces to create a space for training, debate and communication on the role of wildlife photography in conservation: the Photo Terra festival. It was held in Tremp, in November 2016.
The PHOTO TERRA festival was born with three themes: nature photography as a tool for the conservation of the natural environment, communication through the image and the role of nature tourism in the change of perception of local communities. To this end, different workshops will take place every year. Last year the topics were nocturnal photography and light painting taught by Èric Marsinyach and Fran Palmero, wildlife in high speed by Pablo Bou and composition in the landscape by Enrique Mariscal. We want a festival  all can participate in so next year the training themes and workshops will be decided by people coming to Photo Terra through a participation process within social networks.
Last year we went out to take pictures at sunrise following local photographers and we had a great time. As for the talks, international photographers were invited to bring us up to date with conservation projects such as Chris Gomershall, one of the UK VISION 2020 project leaders, David Tipling, who presented his amazing work Birds and People, on birds and human cultures. Òscar Domínguez, who told us about the weak situation Asian vultures are facing. Xavier Basora did the same about the potential of nature photography as an ecotourism modality and through a panel discussion we discussed the importance of photography in the current media with Maria Rosa Vila (Descobrir) and Arturo Larena (EFE). Juan Sánhez Calventus showed all the details of FOTOGENIO, a generalist photo festival born in Mazarron city council (Murcia). Finally, the local photographer Jaume Elies showed us the work of some nature photographers based in Tremp county.
This is what PHOTO TERRA was last year. What it becomes in the future is a matter for all of us. Of course, Photo Logistics will work to grow this space for sharing experiences, learning and talking about wildlife photography and conservation.