The stunningly beautiful Pin-tailed Sandgrouse along with its larger and equally attractive Black-bellied Sandgrouse, two of Europe's most sought after species can be photographed in one of Spain's most spectacular landscapes the rolling steppe of the Ebro Valley.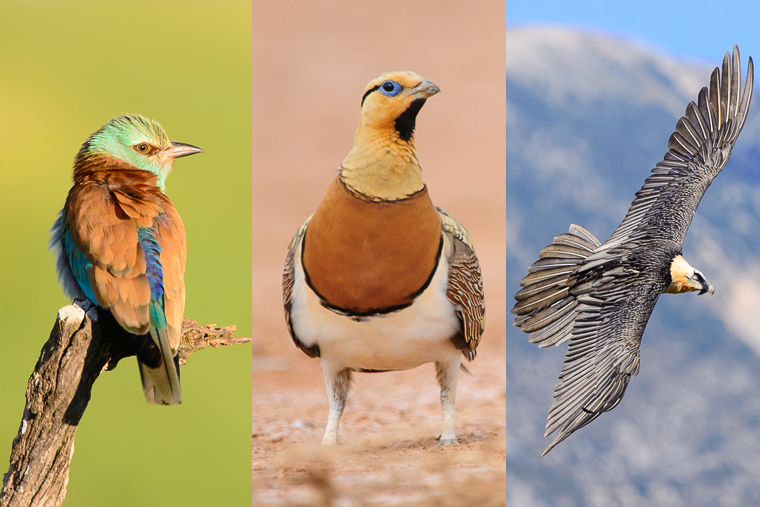 Water is scarce in this almost desert like landscape, which makes our permanently filled waterholes a magnet for not just the sandgrouse but for a whole host of other species too that may include Stone Curlew, Turtle Dove, shrikes and a host of other species, you need to expect the unexpected!
A further three days can be enjoyed photographing a variety of species, crowned by a full day in our Lammergeier hide.
ITINERARY (5 days/ 7 hides)

D0: Arrival
D1: Morning session for Sandgrouse (Pin-tailed and Black-bellied) hide 1
D2: Morning session for Sandgrouse (Pin-tailed and Black-bellied) hide 2
D3: Morning session for Roller or Hobby. Afternoon session at a drinking Pool.
D4: Morning session for Montagu's Harrier. Afternoon session for Little Owl.
D5: Full day for Lammergeier and other vultures.
Minimum 2 photographers
Ask for price and Availability
Best season: Beginning of June until the end of August.
Place: Belchite (Zaragoza) for sandgrouse. Montgai and Solsona (Lleida).
Hides: We use a three-seater hide for the sandgrouse pools, individual hides for Roller, Hobby and Montagu's Harrier and a three-seater hide for the Lammergeier. All the hides are fitted with one way glass.
What is included?
hides hire
feeding of birds (when needed)
management of compulsory permits
guiding and transfer from an agreed meeting points.
What is NOT included?
transfer from/to the airport. If needed, please ask for price and availability.
flight tickets
Accommodation, in case you need it, ask us, we can recommend it.
This itinerary and price is just an example, please, ask for a detailed costing according with your available days and interest.