One interesting week in Finland, taking pictures of Brown Bears, Wolf and Wolverines from hides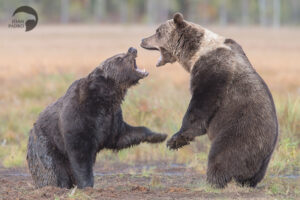 Once the booking will be done, the person in charge from Photo Logistics, Roger Sanmartí, will pick you up at the Joensuu Airport, from this point he will be with you all the trip. Firstly you will be drive to the area of ​​the Wolverine hides where we will spend the following one day. This first place has three different environments to photograph wolverine, depending on the recommendations of the local guides, who are working day-a-day with these animals, we choose one or another.
On the third day we will move further north to reach the area of ​​the Brown bear, here we can have different sites that will allow us to take photographs with different environments every day.
The autumn lights combined with the red and yellow colours of the deciduous trees will give us an unbeatable environment to photograph these magnificent mammals.
The hide sessions are usually in the afternoon (from 12am to 6pm). But we will take advantage of being in such a gorgeous place: in the morning we will take photos on birds in feeders, or we will visit amazing places where the incredible landscapes of the forest of Finland will give us a great time.
ITINERARY
Arrival day: at Kuopio Airport
Days 2:  Wolverine hides.
Day 3, 4 & 5: Brown Bear Hides
Day 6: back to the airport

Main species: Brown bear, Wolverine, Willow tit, siberian jay, squirrel
Other possible species: wolf, capercaillie, black grouse, goosander, whooper swan
Minimum: 5 photographers / Maximum: 6 photographers
Price: 2.409€ special discount 10% (2.190€) if you book before 15th November
Deposit: 300 € (included in the final price)
Next trip: 5th -10th September 2023. SOLD OUT.

New dates: 9th – 14th September 2024.
hides hire
feeding of birds (when needed)
management of compulsory permits
guiding and internal transfers
Accommodation Full Board
What is NOT included?
Pictures at the Finland Trip: