Morning or afternoon hide sessions in a private estate near Andújar village.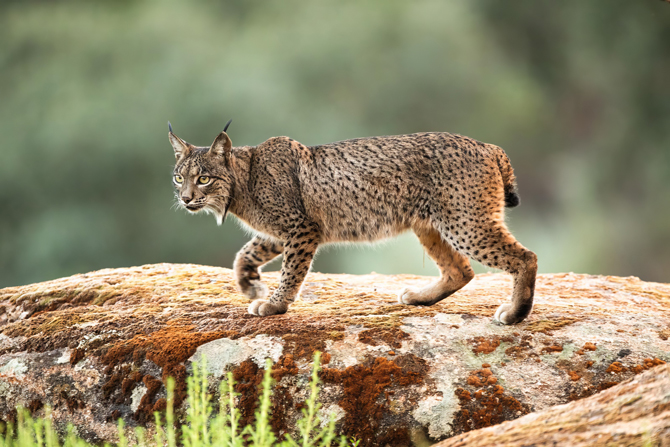 The most endangered feline species in the world, the Iberian lynx, has the core of its current distribution area in the Sierra de Andújar. And within this place, its numbers are concentrated in those farms that have managed to manage and conserve their rabbit populations in the best conditions. The continued presence of rabbits is a prerequisite for the conservation of the lynx, as this species constitutes the majority of its diet.
Thanks to the agreement we have reached with a private estate that actively manages for the continued presence of rabbits, we are able to offer an Iberian lynx photography service under the best conditions. This is a series of hides located on a plot of land that has been landscaped and naturalised with rocks and autochthonous vegetation from where it is possible to take photos in the early morning and throughout the afternoon. Several specimens of lynx, both adults and juveniles and (at the right time) cubs, can be photographed a few metres from the hide.
These hides operate all year round, and in each season there are different photographing behaviours: winter mating, interactions between adults and young almost all year round, late spring and summer adults with kitties or long stays resting on the rocks in front of the hides most of the year.
When light conditions are too dim, the scene is illuminated with spotlights.
Type of service: three fixed hides for two people. And complementary canvas hides.
Season: all year round.
Location: Andújar.
Combinable areas: Murcia
Maximum capacity:eight people.

Ask for price and Availability
What is included :
use of the hide.
transport service and guide from the meeting point.
technical advice.
management of administrative permits.
when you book a hide you are accepting our rules and commitments