A plan for the afternoon? Continuous activity and diversity at the fallow field hide in Claret (Lleida).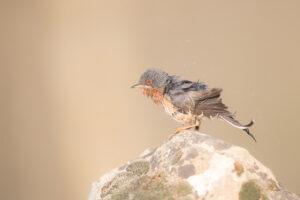 Claret is a geographically very interesting place, located in the middle of the typical farming plains of La Segarra and the wooded undulations of Solsonès. In the middle of a fallow field there is a naturalised water hole. In an almost arid place, where there are no natural water points, this pond is a small oasis in the middle of a bushy landscape.
During the spring and summer months this hide is a very good option for a varied and entertaining photographic session, with a lot of passerine activity and a great diversity of species. Recurrent species at this watering hole are the Subalpine Warbler, Serin, Linnet,Turtle Dove, Rock Sparrow, Hawkfinch, Greenfinch, Nightingale, Woodchat Shrike, and sometimes Hoopoe even some raptors.
The spot has two three-person hides equipped with fans, batteries, a table with a universal swivel support and chairs. It lasts about four hours (16.30-20.30h).
Type of service: 2 triple hides; hide made of wood and one way glass.
Season: April – September.
Area: Solsonès (Torà)
Combinable areas :  Montgai, Ivars, Tremp, Barcelona
Maximum capacity: 6 photographers
Ask for price and availability
Què està inclòs :

What is included:

use of the hide.

transport and guide from the meeting point

technical advice

administration of the relevant permits

when you contract a service you accept our rules and commitments.

Meeting point