We propose here a comfortable hide for getting the best of the passerines, and some unexpected visitors.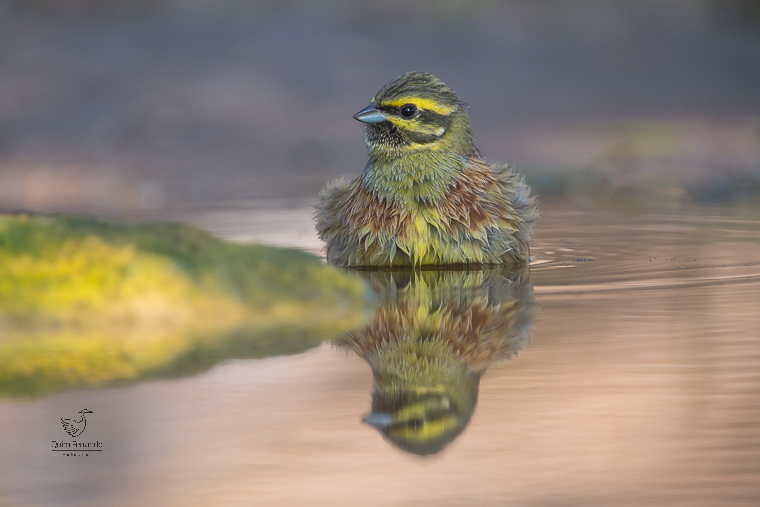 This facility is the perfect stopover between our hides in Northern Catalonia (Lammergeier, Marsh Harrier, Buzzard, Black Wheatear, etc.) and those in Valencia area (Bonelli's Eagle, Goshawk, etc.). It is also perfect for spending one or more days combining with our safaris in Ebro Delta for waterfowl, shorebirds, gulls and other wetland birds leaded by our local guide.
It is a hide placed in an Olive tree field where birds use to concentrate as they feed on the olives. Close to a small ravine with natural vegetation what means a wider gamma of species. There is room for three people and it is provided with a coach (not kidding, there is a coach in this hide). At a short distance and perfectly facing the light there is a drinking pool that we keep always full of water and a feeding station with a variety of bird food. We change the perches every session.
Some examples of birds we get until now are: Blackcap, Sardinian Warbler, Brambling , Chaffinch, Cirl Bunting, Song Thrush, Great Tit, Robin, Linnet, Black Redstart, Chiffchaff, and Sparrowhawk.
Once you make your booking, our guide will take you from the meeting place to the hide. Exit from the hide is under strict supervision by our guide, you cannot get out of the hide until he knocks at the door to ensure the birds are not made suspicious of the hide.
Type of service: fixed three people hide with coach.
Season:  Whole year.
Location: Mas de Barberans, Tarragona.
Combinable Zones: Belchite,  Ivars, Claret, Solsona, Montgai, Tremp, València
Maximum capacity: 3 photographers
Ask for price and Availability
What is included :
use of the hide.
transport service and guide from the meeting point.
technical advice.
management of administrative permits.
when you book a hide you are accepting our rules and commitments
Some shots from our hide