The estimated population of Iberian Lynx was 686 in 2018. They are distributed in four main subpopulations in Andalusia (besides minor populations in other territories). The healthiest one is, for sure, those in Andújar range. Here is where we work for offering the best of the most threatened feline in the world.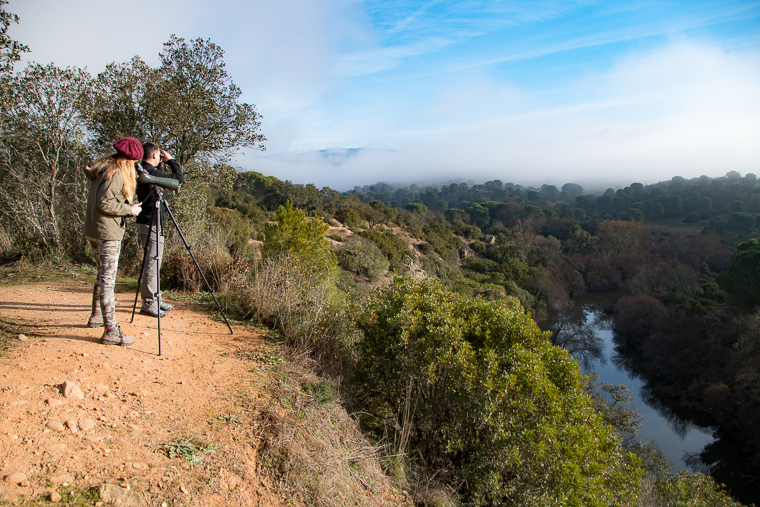 Sierra de Andújar is one of the wildest places remaining in Europe. Large undivided estates contain some of the most valuable habitats of Southern Europe. It is not only the habitat of the Iberian Lynx, it is also the right place for birds like the Spanish Imperial Eagle, Iberian Ibex, Azure-winged Magpie, and a good number of forest birds.
Taking advantage of the winter time is the cleverest option: the Lynx is more diurnal in this period and it is also the mating time, so they are more actives.
By working with a biologist who has a huge experience in Lynx studies we can offer the best opportunities for both: watching and taking photos on this amazing animal. We check every day the Lynx tracks by using camera traps and so we can take you to the best places. Please, remember that feeding the Lynx is strictly prohibited and so knowing their paths and how they use the territory is the only way to watch and take photos on Iberian Lynx.
Our tour will combine both: photographic opportunities and birding itineraries and we will spend more time on watching or waiting for the best photo opportunity according with your demands. We also offer three double hides in case you wish to take photo sessions on Lynx, Golden Eagle, Black Vulture, Red Deer or Azure-winged Magpie.
Regarding the accommodation we will book on demand: charm quiet places or basic and clean hotels in small cities or villages. PHOTO LOGISTICS is a travel agency and we can find the perfect package for you.
Once the booking is made, our guide will pick you up at a place and time previously agreed. From here you will be driven to make the route that best suits the weather conditions, the time of year and your interests, of course.
Type of service: photo safari and birding.
Season: November to March
Location: Andújar
Combinable Zones: Murcia.
Ask for price and Availability
Maximum capacity: six  people.