At the feet of the Pyrenees there is a vast extension of flatlands where some of the best places for the conservation of birds like Little Bustard, Calandra Lark,  Black Wheatear, Bee-eater, Roller, Golden Oriole or Montagu's Harrier are located. The vicinity to the mountains offers great opportunities in watching and taking photos on Lammergeier, Egyptian Vulture or Black Vulture.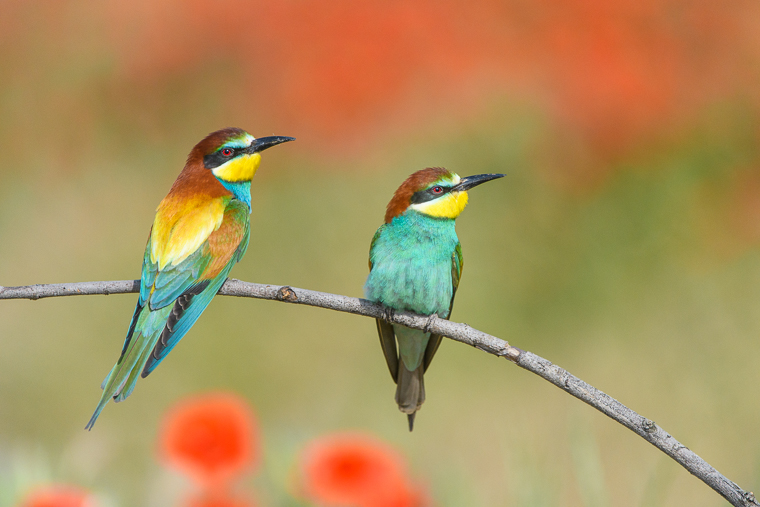 The photographic and birding itinerary will be slightly different as the season comes along; the mating displays of the Little Bustard kick off the spring season in April, then the migrants come over:  Bee-eaters, Montagu's Harrier, Golden Oriole, Hoopoe, etc. look for their place in the steppe lands.
The same happens in the mountains where the Lammergeier can be spotted the whole year but birds like the Egyptian Vulture, Short toed Eagle or Black Kites get the place as the springtime arrives.
Our tour will combine both: photographic opportunities and birding itineraries and we will put more weight on the activity that the group ask for. Even, we can combine with some photo hide sessions or we can use our hide network for short sessions and just enjoy watching the birds at a very little distance.
At the end of the holidays you will get a gorgeous bird list and the best photos you have ever dreamed on both: mountain and steppe birds.
Regarding the accommodation we will book on demand: charm quiet places or basic and clean hotels in small cities or villages. PHOTO LOGISTICS is a travel agency and we can find the perfect package for you.
Once the booking is made, our guide will pick you up at a place and time previously agreed. From here you will be driven to make the route that best suits the weather conditions, the time of year and of course, your interests.
Type of service: photo safari and birding.
Season: April to July
Combinable zones: Claret, Ivars, Tremp, Belchite
Maximum capacity: six people
Ask for price and Availability
What is included :
transport service and guide from the meeting point.
technical advice.
management of administrative permits.
when you book a hide you are accepting our rules and commitments