Spend a week in one of Europe's last remaining wildernesses, the Danube Delta. You will stay and photograph in a private reserve within the delta.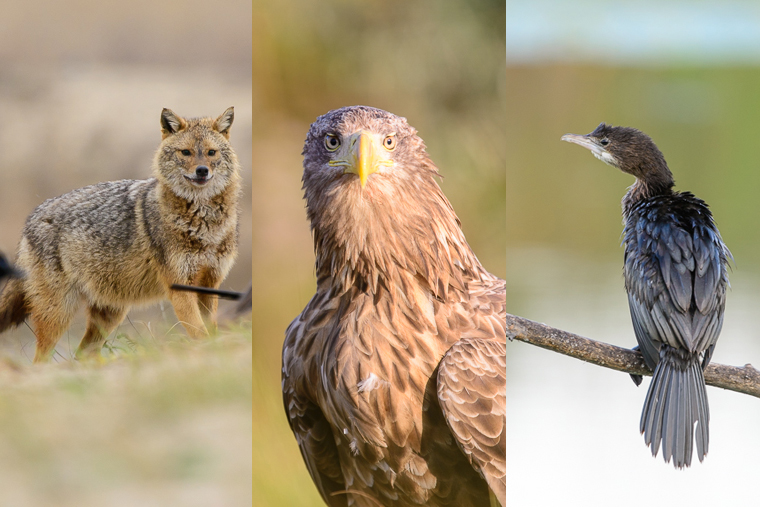 A Photo Logistics guide will meet you on arrival at Bucharest airport. He will be available to assist during your entire trip. Once your group has checked in to your accommodation inside the reserve our guide will show you the hides and the best way to reach them each day. Only the Golden Jackal and White-tailed Eagle hides require our guide to see you to them. The others you can reach by yourself along with all the other facilities by walking or driving in an an electric vehicle.
ITINERARY
Arrival day.
Arrival to Bucharest airport. Photographers' reception before 12:00 am. Transfer by van to the hotel in Bucharest. Transfer by van (3,5h.) and boat (1,5h.) and arrival to the lodge inside the property. Visit the hides and rules explained.
Days 1-4. Morning and afternoon sessions in hides.
Day 4 & 5. Morning session in hides. Afternoon: half a group (three maximum) will take a hide-boat for taking waterfowl photos in the inner lagoons of the Danube. The other half will run hide sessions.
Day 6 Morning session in hides. Depart at midday then photograph seabirds from a boat trip before returning to Bucharest.
Main species: Pigmy cormorant, Dalmatian pelican, White-tailed Eagle, Whiskered tern, Lesser spotted Woodpecker, Gull-billed Tern, Grey-headed Woodpecker, Red-breasted Flycatcher, White-headed long-tailed tit, Golden Jackal.
Minimum: 4 photographers
Price: 1900 €/person for 6-7 people group. 2050 €/person for 4-5 people group.
Next trip: September 2017
What is included?
hides hire
feeding of birds (when needed)
management of compulsory permits
guiding and internal transfers
Accommodation Full Board
What is NOT included?